German Water
XELESS has been delivering mobile infrastructure solutions for a wide range of applications since 1996. From its headquarters in Germany, XELESS coordinates many diverse projects throughout the world, including the installation of drinking- and waste water networks, wastewater systems or temporary living quarters and sanitary camps.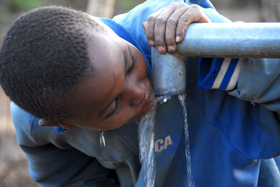 Due to the flexibility of the materials used, the building sites are entirely independent of local conditions and can be almost anywhere, XELESS not only provides the necessary material, but supervises each project on site with experienced employees who are supported by local experts.
By involving the local workforce, XELESS contributes to strengthening the respective region in the long run.
In addition, XELESS works closely together with local authorities and community representatives and guarantees a maximum of cultural adaptability.
When installing and operating any systems, XELESS always works in accordance with the strict German health and safety guidelines.
XELESS German Water – Always a clean solution!